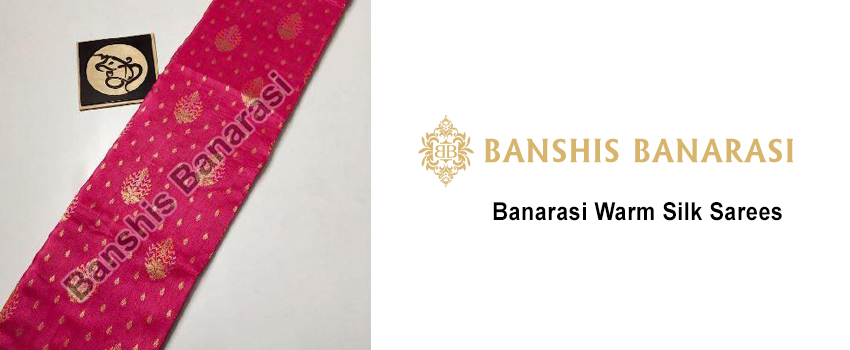 If you want a saree that can offer an extremely unique look to you as well as comfort, then select Banarasi Warm Silk sarees. And if it's Banarasi Warm Silk Sarees, then it would ensure phenomenal comfort as well as a remarkable appearance.
Being one of the prominent brands of Banarasi Warm Silk sarees manufacturers, these manufacturers offer top-quality Banarasi Warm Silk sarees that are 100% pure, authentic, comfortable and available in several colors. They have all the primary colors and some unusual designer colors that are suitable for any use, especially for party wear or traditional wear.
The price of this Silk saree ranges between 1700-1800 rupees, which is less expensive than the other labels.
Origin and History
Banarasi warm silk sarees are an unmatched example of excellent artistry. Mughals brought this fine craftsmanship to India. Mughals also tried their best to extol the art of weaving and designing.
During the course of that act, they inspired some craftsmen to work in the intricate art of weaving. It was the origin of Sari weaving art. In addition, at that particular time, Persian motifs were being assorted up with Indian customary attire.
Today's Banarasi Warm Silk Sarees are the product of this specific mix-up of two non-identical cultures and the exemplary enthusiasm of Mughals. In the earlier times, silk for Banarasi Sarees was being imported from China. Now it has been offered by the southern part of India.
The art and culture of providing Banarasi sarees with silks are very prehistoric. The continuation of passing down the culture of the artistry of the Benarasi saris from one generation to another has never been stopped. Persian motifs were being mixed up with the designs of Indian silk to generate this distinguishing flowery pattern of Banarasi silk sarees, which are so typical in current days.
Sources of Inspiration
In the present day, Banarasi warm silk sarees are still considered to be one of the finest traditional saris. It is actually been familiar for its design and gold as well as silver brocade or the 'Zari' The special features of these sarees are their designs, which are Mughal-inspired. Very often, it has been adorned with intricate floral as well as foliate designs.
Moreover, you may also find a string of upright leaves, which are known as'Jhallar'. The idiosyncratic features of these Banarasi silk sarees comprise the heavy working of gold, small detailed figures, metal visual effects and compact weaving as well.
Importance of Benarasi Silk Sarees:
Even in other nations, the latest collection of Benarasi Sarees is in high demand. They comprise a variety of detailed and intriguing works, such as floral themes, animal and nature designs, and more. Designer works like block printings, paintings, and other beautiful works are available on these sarees, making them suitable for all special events.
Banarasi silk sarees are well liked as they combine comfort, elegance, and ethnicity. People in today's world appear to be very occupied, which has resulted in the creation of online shopping sites where Banarasi silk sarees may be bought without having to visit a store.
You may just purchase online and have the product delivered to you at your doorstep. Online shopping has become a huge advantage for women in today's culture who have a lot on their plates.
Conclusion
Banarasi Sarees have long been a staple of our Indian customary heritage, and ladies all across the country and even beyond have been in love with their glossy beauty, tastefully adorning them at all ages. For a long time, Surat manufacturers are one of the most well-known and well-founded names in the world of sarees; e-commerce retail, have delivered as a one-stop shop for designer silk sarees.
Customers are captivated by their vast selection of sarees in a variety of designs, from Benarasi to Kanji vram and many more, in both contemporary and classic forms. Surat manufacturers have an advantage over their competitors in the market by offering creating patterns in gorgeous colors with top quality cloth at extremely aggressive costs.
According to reports, Indian silk is marketed in about 200 countries, with demand growing all the time, particularly in the United States and Europe. In terms of silk production, India is only second to China. Varanasi is well-known for its silk, a time-honored emblem of craftsmanship.