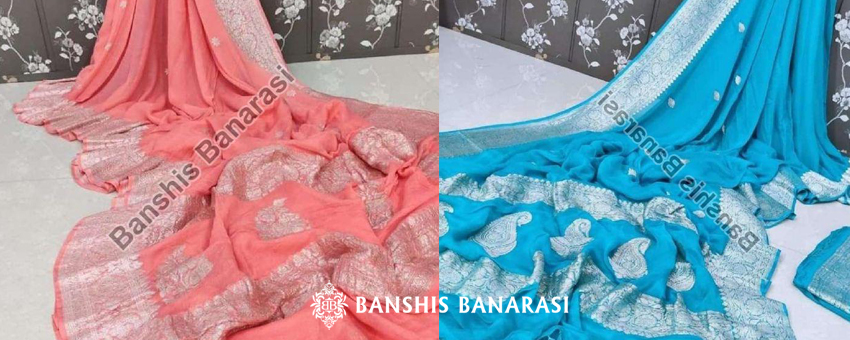 Handloom sarees like Georgette Saree, Tant Saree, and even Silks are the crown jewels of Indian cultural clothing. They are frequently a family heirloom and a significant financial and psychological investment. Their beautiful, ornate motifs and embellishments can instantly turn you from a simple to an elegant, ethnic queen.
This explains why handloom sarees must be handled with extra caution and care because they are incredibly delicate. These sarees are readily damaged by environmental corrosion, discolouration, and wear and tear, making maintenance difficult. It is usually advisable to have it washed by a competent and reputable dry cleaner. You may have to spend more, but your money will be well spent because your saree will be well cared for.
However, if you are unable to have your saree dry washed, you must actually take this matter into your own hands. Follow this professional procedure suggested by any Handloom Georgette Saree Manufacturer to care for your handloom sarees and avoid making unintended washing blunders that could severely ruin them.
Washing Procedure:
● Immerse your sarees in saltwater for a few minutes before cleaning them with soap.
● However, do not immerse them in water overnight or for an extended period of time as this may cause discolouration.
● Rinse with cold water 2-3 rounds after soaking before washing with detergent.
● To manually wash your sarees, invest in high-quality, gentle detergents from reputable companies. On fragile materials, never use dyes, bleach, or aggressive stain removers.
● Don't leave the soap on the fabric for too long. Remove it as soon as possible.
● While washing the saree, avoid bundling it up as this may cause creases of the fabric.
● Also for stains, avoid using a brush because it can easily damage the cloth.
● Use cold water at all times. Remember that handloom sarees are extremely delicate, so NEVER wash them with hot water.
● Never use a washing machine to clean your costly handloom sarees.
Removing Stains:
● In the event of an unintentional discolouration, your sarees must be cleaned right away.
● If the stain is oily, such as from food, apply talcum powder to it and wait for it to absorb the oiliness. Then carefully rub it off and wash it away.
● Soak a cotton ball in unadulterated petrol and wipe away stains from beverages or gravy.
● It is best to send it to a dry cleaner for a much more thorough wash for harder stains.
Drying Process:
● It requires time and patience to dry a handloom saree after it has been washed.
● When drying a saree, avoid direct sunlight as it may cause fabric discolouration. Dry it in the shade.
● To avoid irreversible creases, never wring it to press out the water.
● Cover the saree in clean, absorbing, light-coloured tissues or napkins and gently press it.
● To dry, stretch it out flat on a neutral surface. Avoid stained surfaces such as painted surfaces, window frames, fences, and rusted clothes racks.
● Separately drying your saree is always recommended. Garments with spilling colours may cause fabric damage.
The way you preserve a handloom saree has a lot to do with how long it will last. Before storing your saree from any Handloom Georgette Saree Manufacturer, make sure it is completely dry because moisture might harm the fabric. Also, wrap the saree in Muslin cloth or pure cotton, which allows air to circulate while protecting the saree from dampness.