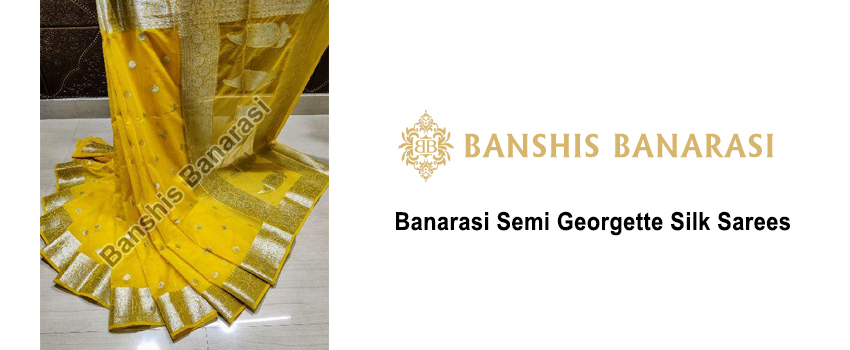 A banarasi saree is a type of unique saree manufactured in Varanasi. Banarasi saree is among the finest sarees in India that are famous for its gold, silver, zari and brocade embroidery work. Banarasi saree is made from finely woven silk and is decorated with intricate design/ floral and foliate motifs, which are the unique characteristics of intricate design.
The outer edge border of the banarasi saree has a unique characteristic that is famous for its gold work. Mina's work and net-like pattern are the unique characteristics of the benarasi saree. It is very unique and affordable. You can wear it at any festival.
Unique Checklist of Pure Banarasi Saree
The unique features of a banarasi saree are as follows-
1. Pure banarasi saree is made from high-quality pure silk thread derived from gold or silver alloys. Gold and silver threads are costly and the weaving process is very laborious. Due to these factors, the price of the benarasi silk saree is very high.
2. As per the Banarasi Semi Georgette Silk Saree Manufacturer, Banarasi saree has a unique characteristic of Mughal-inspired motifs that makes the banarasi saree more beautiful. You will not find delicate motifs on duplicate banarasi saree. Authentic banarasi semi-georgette silk saree manufacturers can give you authentic georgette silk banarasi at an affordable price.
3. A long patch of six to eight inches of plain silk on the pallu is a unique feature of a benarasi saree.
4. Before buying an online benarasi silk saree, read the online customers' reviews. It will be beneficial. It will help you significantly to buy the expensive benarasi saree.
5. You can get the opinion of the benarasi silk saree expert. You can get detailed information about a particular benarasi saree.
Some Varieties of Banarasi Silk Saree
The different types of banarasi silk saree are as follows-
• Banarasi Pure Silk Saree It is manufactured with pure silk yarns with authentic gold and silver zari. Benarasi satin silk is made from a satin weave. The texture of this banarasi silk saree is very soft and lustrous. This type of banarasi saree is ideal for bridal grace.
• Banarasi Semi Silk Saree- This type of banarasi saree consists of half fine silk, but the appearance and texture of this banarasi saree are pure. It is cost-effective and affordable.
• Banarasi Bamboo Silk Saree - The variety of banarasi is the contemporary version. It is a pure silk saree woven with bamboo silk as the base fabric. This fabric is eco-friendly and comfortable.
• Banarasi Linen Silk Saree- Linen banarasi silk saree is lightweight with a coarse and crisp texture and gives a vibrant look.
• Banarasi Georgette Silk Saree- The uneven and coarse texture of the tussar silk saree can give a rustic feel. The customized motif engraved on the banarasi saree gives a unique appearance. It is unique and stylish.
From the above information, choose an authentic banarasi semi-georgette silk saree manufacturer. It will help you significantly in many aspects. You can search online for this purpose. It will help you significantly in many aspects